Baked White Fish Recipe With Thyme & Garlic
We are in the mood today to showcase yummy and healthy meal ideas for those who wish to try something light on both your tummy and the planet.
White fish is one of these staples.
Shawna Caronado which we briefly discussed earlier with her unique Shawna Martini has another goodie for you, this time a delish white fish recipe. It's a simple recipe with few ingredients and quite easy to make. See it below.
White Fish Recipe Baked With Lemon Thyme and Garlic
Ingredients: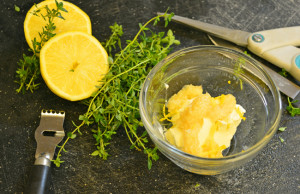 Tilapia, 4 – 4 oz. filets (or any white fish will do – use American or Canadian Tilapia if you can get it)
Butter, 1 ½ Tablespoons (or less if you like)
Garlic, 2 Tablespoons crushed (or more if you like – it keeps the vampires away ya know)
Juice of ¼ Lemon
Lemon rind, 1 teaspoon
Lemon Thyme, handful of herb sprigs
Salt and Pepper to taste
Preparation:
Preheat oven to 400. Thaw, rinse, and salt/pepper the fish filets. Place several springs of lemon thyme on bottom of pan. Put white fish on top of lemon thyme. Melt butter, garlic, juice, and lemon rind together. Pour melted garlic butter mixture over filets. Salt and pepper as desired. Place a few more sprigs of herbs on top. Bake for 20 minutes.
Great served with rice or potatoes, but also wonderful with a simple side salad with a fat free dressing and it easily costs under $10 for four people.
via Shawna Caoronado